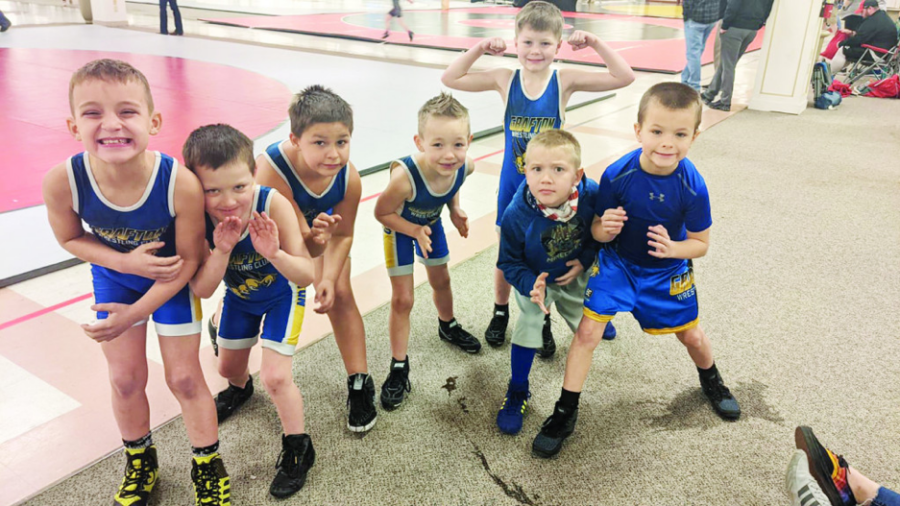 By: Sarah Jones, Sports Editor/Reporter – Updated: 17 hours ago
Posted Mar 9, 2021
BRIDGEPORT— The Grafton Wrestling Club traveled to Bridgeport over the weekend, taking over the Meadowbrook Mall, hitting the mats to compete in the Tribe Takedown Classic hosted by Bridgeport.
The Tribe Takedown Classic was setup as a nontraditional tournament utilizing the Round Robin format in order to maximize the amount of mat time each wrestler received.
For many of these young wrestlers this was their first tournament, but despite an unusual season and first time jitters, the Grafton Wrestling Club ended the day with 15 of their members placing in the top five or better in their respective age and weight classes.
Leading the way for the squad was Ian Glaspell (10u 125/HWT), who brought home the club's only first-place finish. Coming up just short of the first were JW Nestor (10u 85/90), Rondo Koontz (10u 90/95), Abel Mitchell (8u 75/85) and Garrett Poling (10u 55/60) who all received second-place finishes in their divisions.
Additionally, the team claimed two third-place spots from Bearcubs Jason Austin (8u 45/50/55A) and Bryson Swaney (8u 45/50/55B) in their divisions, while Isaiah Glaspell (8u 45/50/55A), Garrett Davis (12u 145/160), Koltin Knight (12u 105/125), Brayton Davis (10u 105), Landon Lynch (8u 65), Lucah Barbe (6u 50A) and Gaige Glover (6u 50B) earned fourth-place finishes in their classes.
Rounding out the club's winnings was Clarissa Miller (10u 90/95) placing fifth in her division.
"Myself and the other coaches were beyond pleased with the performance our team had over the weekend," commented assistant coach Thomas Davis. "We have more to learn, but we are on the right track and making noticeable progress."
The Grafton Wrestling Club will head back to Bridgeport this weekend, on Sunday, March 14 for their next tournament, to be hosted by Lewis County.
© 2021-Mountain Statesman