MAY 13, 2020
JENNIFER COMPSTON
Managing Editor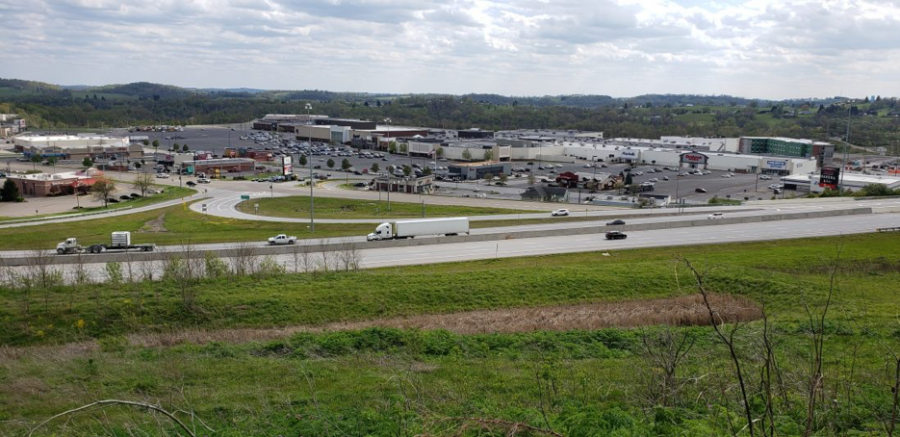 Numerous cars are parked outside the Ohio Valley Mall on Tuesday, when the retail center reopened after being closed for weeks in response to the COVID-19 pandemic.
ST. CLAIRSVILLE — Business was more "brisk" than expected as the Ohio Valley Mall reopened on Tuesday.
The retail complex had closed along with other "non-essential" businesses across the Buckeye State on March 13 as government leaders worked to slow the spread of the new coronavirus. A limited number of mall businesses, such as restaurants, continued to operate — but with only limited services available in accordance with state guidelines.
Joe Bell, spokesman for mall parent the Cafaro Co., said he spoke with marketing managers at the company's malls across Ohio on Tuesday, including OVM spokeswoman Candi Noble-Greathouse. According to Bell, she reported that the mall was busier than officials had anticipated, with Boscov's in particular welcoming a large number of customers.
Bell said all retail employees in Ohio are required to wear face masks on the job, including at the mall in St. Clairsville.
"We want to make sure we are doing this responsibly," Bell noted.
In addition, he said marketing managers observed that about half of all mall customers were wearing face coverings while doing their shopping Tuesday. He said patrons also were "conscientious" about social distancing, keeping at least 6 feet of space between themselves and others.
Bell added that the Ohio Valley Mall is working with its assorted retailers to develop its planned "Mall to Go" program, which will designate parking spots for customers who call ahead to have their order delivered to the vehicle. The mall also is working on ways to allow local residents who have begun to manufacture face masks or hand sanitizer to secure kiosk space rent-free where they can sell the sought-after products.
The mall has resumed its normal operating hours of 10 a.m. to 9 p.m. Monday through Saturday and 11 a.m. to 6 p.m. Sunday. Individual stores' operating hours may vary, so Bell urges customers to call ahead to ensure they can visit a particular store.