Coaches Burger Bar Now Open at Ohio Valley Mall
AUG 11, 2022
CARRI GRAHAM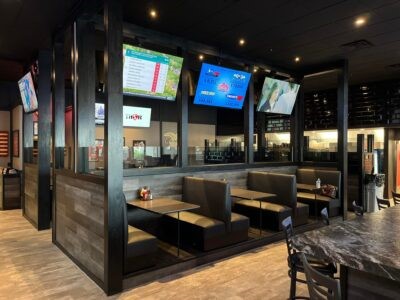 For The Intelligencer
Photo Provided – The interior of Coaches Burger Bar that was posted on the restaurant's Facebook page Monday afternoon following its opening. The restaurant officially opened for business Monday afternoon.
The Ohio Valley Mall welcomed its newest eatery this week as Coaches Burger Bar opened for business.
The restaurant known for its burgers announced on social media that it was officially opened Monday afternoon.
Coaches signed a lease with the mall in late August following the closure of Garfield's Restaurant & Pub. Garfields closed its doors Aug. 20, 2021 after allegedly failing to pay the mall's parent company, Cafaro Co., lease charges totaling $88,834 at the mall location.
Since then, Coaches has been hard at work renovating the space to make it its own.
According to its website, the burger bar was established in 2015 having locations in Austintown, Calcutta, Canton, Poland, Salem and now, St. Clairsville. The restaurant states that it is family friendly and has "excellent" burgers, wings, pizza, fries and shakes.
Candi Noble-Greathouse, marketing director of the mall, said the eatery held its soft opening Monday, opening its doors around 3 p.m.
"We are absolutely thrilled to have Coaches Burger Bar now open at the Ohio Valley Mall. This is a perfect week for it. We've got back-to-school shopping and all of our shoppers can shop and grab something to eat and try something new. We're thrilled for the third and fourth quarter that is happening now and even more shoppers can enjoy this throughout the holiday," she said.
Noble-Greathouse said there has been a lot of excitement surrounding the burger shop and its opening. She said she anticipates a busy week for the new business and the mall.
Coaches Burger Bar is now open from 11 a.m. to 10 p.m. Monday-Thursday, 11 a.m. to 11 p.m. Friday-Saturday, and 11 a.m. to 9 p.m. Sunday.