MAR 11, 2022 | ROBERT A. DEFRANK | For The Intelligencer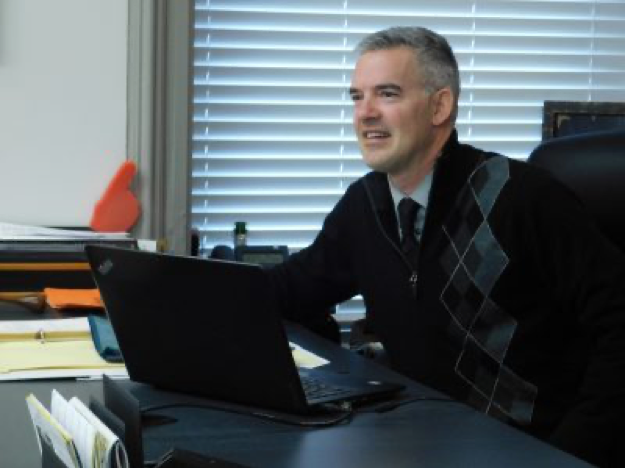 Photo by Robert A. DeFrank | Belmont County Commissioner Josh Meyer listens to a report from Ohio Means Jobs. The upcoming Ohio Valley Job Fair and a lack of job seekers in the area led Wednesday's talks.
Belmont County is preparing to meet the needs of job seekers and employers alike with the upcoming Ohio Valley Job Fair, but the workforce shortage is making an impact.
Mike Schlanz, workforce supervisor of Ohio Means Jobs of Belmont County, said the job fair is set for 1-4 p.m. May 19 at the Ohio Valley Mall. He said the annual event was canceled in 2020 due to the COVID-19 pandemic but returned in 2021 with a humbler turnout compared to prior years.
"We had 80-90 employers registered," he said, adding it was more difficult to estimate the number of job seekers present since they tend to wander in and out. He speculated that about 100 people came seeking jobs.
He said in past years, there have been 120 businesses and agencies represented and 400-500 job seekers.
"That's just a sign of the times right now," Schlanz said. "We're looking forward to hopefully a good turnout with employers and job seekers."
Schlanz said the fairs always have potential.
"It's something we look forward to. It's a win-win situation for employers, job seekers and the mall," he said.
Schlanz did not know how successful the job fairs and on-site recruitment are in helping businesses find and retain employees. He said employers continue to post job openings, but some have given up on-site recruitment.
He added that job seeking had begun to drop in 2019, prior to the pandemic.
"It just isn't like all this has happened since COVID, but I think it's increased due to COVID, the lack of job seekers," he said.
He added that the number of people asking for help at the Ohio Means Jobs offices has fallen off sharply since the COVID-19 pandemic began.
"We were averaging 350-400 visits per month," he said, adding that since the start of 2022 the office has averaged about 50 visits from people wanting work.
"I don't see things changing. It just isn't our county. It's statewide at job centers and probably nationwide," he said. "We still have employers who call us and post jobs."
"That's a pretty dramatic drop in people," Commissioner Josh Meyer said. "It's not for lack of jobs. Jobs are out there."
Schlanz said there are many openings in the food service and health care fields. He said there may be several factors involved in the declining number of people looking for jobs, such as the retiring Baby Boomers, the decreasing population, day care issues for women, and an apparent lack of initiative among men.
Bradley Wells, business outreach executive, then spoke about the agency's virtual job fairs. He said virtual job fairs are offered monthly, with the next one held 10 a.m. to 2 p.m. March 24 and featuring multiple industries including transportation and logistics, distribution, warehousing, health care, construction, landscaping, retail, social services and more.
Wells said the February virtual job fair included 25 businesses and organizations, 30 job seekers, nine resumes submitted and with 103 total job postings. He said 95 percent of users were first-time users. He said so far only six businesses have signed up for the March virtual job fair.
"I hope those numbers increase," Wells said. "It seems like without the job seekers showing up, and we've got all these vacancies and all these jobs, the businesses therefore become frustrated. I'm starting to see that. I didn't want to see it, but I'm seeing it."
The virtual fairs cover Belmont, Harrison, Carroll and Jefferson counties.
Belmont County Department of Job and Family Services Director Jeff Felton said the county unemployment rate is about 4.5 percent.
For more information, visit OhioMeansJobs.com/Belmont or call 740-633-5627 or toll free at 877-516-5627. Ohio Means Jobs has an office at 302 Walnut St., Martins Ferry.