by Josiah Cork STAFF WRITER | Nov 26, 2021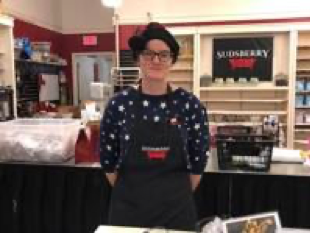 Leah Michael, owner of Sudsberry Homemade Bath & Body, recorded record-breaking sales after being open for only a few hours Friday morning. | Staff photo by Josiah Cork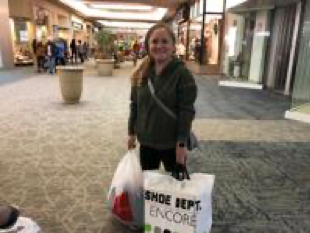 Amy Hackett of Buckhannon was one of many shoppers out seeking deals on Black Friday. Specifically, Hackett took advantage of some sales on shoes and flannels. | Staff photo by Josiah Cork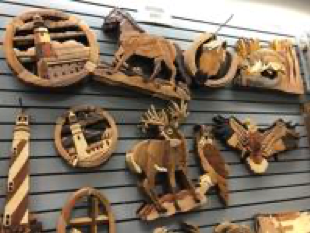 Donna's Unique Gifts had a big sales day on Black Friday. Some of their most popular items are their handcrafted wood carvings. | Staff photo by Josiah Cork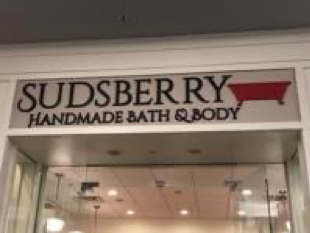 Sudsberry Handmade Bath & Body saw a record-setting sales day after being open for only three hours Friday morning with most of Black Friday still to come. | Staff photo by Josiah Cork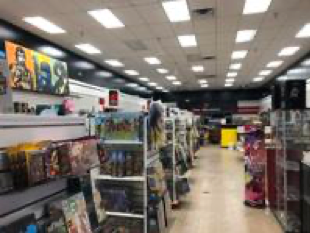 Four Horsemen Comics and Gaming's co-owner, Mike Tressler, said sales were through the roof on the morning of Black Friday. | Staff photo by Josiah Cork
CLARKSBURG, W.Va. (WV News) — Shoppers in North Central West Virginia headed to retail locations Friday for the biggest sales day of the year.
At Meadowbrook Mall, the shopping was especially concentrated the morning of Black Friday, as the mall was closed all day for Thanksgiving.
Usually shoppers would swarm the mall after Thanksgiving dinner, but retail locations everywhere have begun to move away from that model because of rising online sales during the pandemic.
Instead of Thanksgiving evening, Meadowbrook Mall opened at 6 a.m. Friday.
Shoppers made their way to the mall, packing the parking lot and forming lines outside some of the bigger stores.
Amy Hackett of Buckhannon was one of thousands of shoppers looking for bargains.
"We're just browsing. Looking at some shoes and different deals we can find," she said. "We got some flannels for my boys. They're into those."
Hackett, like many shoppers, opted not to shop on Black Friday the past two years, but came back out this year.
"We haven't been out for a couple years, but we decided to just come out and browse around," she said.
This Black Friday has been kind to some of Meadowbrook Mall's newest businesses.
According to James Vanscoy of Donna's Unique Gifts, the store opened on Oct. 1.
Vanscoy said shopping was especially busy right after the mall opened Friday morning.
"And it's been still really steady," he said.
Black Friday looks to be one of the busiest days for Donna's Unique Gifts thanks to the one-of-a-kind inventory mentioned in the store's name.
"We're a unique gift shop so we have a lot of really unique stuff that you can't find just about anywhere else. So it makes it a great place to come for any kind of gifts for anybody" Vanscoy said.
Vanscoy mentioned that some of the most popular items in the store include mosaic lamps and handcrafted wood carvings.
Sudsberry Homemade Bath & Body opened Feb. 10 at the mall, and also did well.
"It's been a very busy Black Friday morning," said Leah Michael, store owner.
Michael added that there were record-setting sales after only being open for about three hours.
"Actually we've hit the most sales we've ever had in one day already," Michael said.
As the name suggests, Sudsberry's inventory includes homemade soaps and fragrance products.
"We sell handmade bath and body products. We make them all right here in the store. We also sell bath accessories … since we do soy wax tarts, we also have fragrance for most of the things like that, too," Michael said.
Michael noted that the Black Friday sales at Sudsberry were the biggest sales the store has offered as well.
"From 6-9 a.m., we did a 40% off and then we have online orders galore … Then it's 20% off for the rest of the day," Michael said.
Sudsberry's online orders were covering a table behind the checkout counter and overflowing onto the floor and the back of the store.