by Steven Baublitz STAFF WRITER
Clarksburg Police Sgt. Paul Graeber and his girlfriend, Ali Lopez, hand out candy from the trunk of a decorated Clarksburg Police Department cruiser during Trunk-or-Treat with Law Enforcement Meadowbrook Mall on Thursday evening. | Staff photo by Steven Baublitz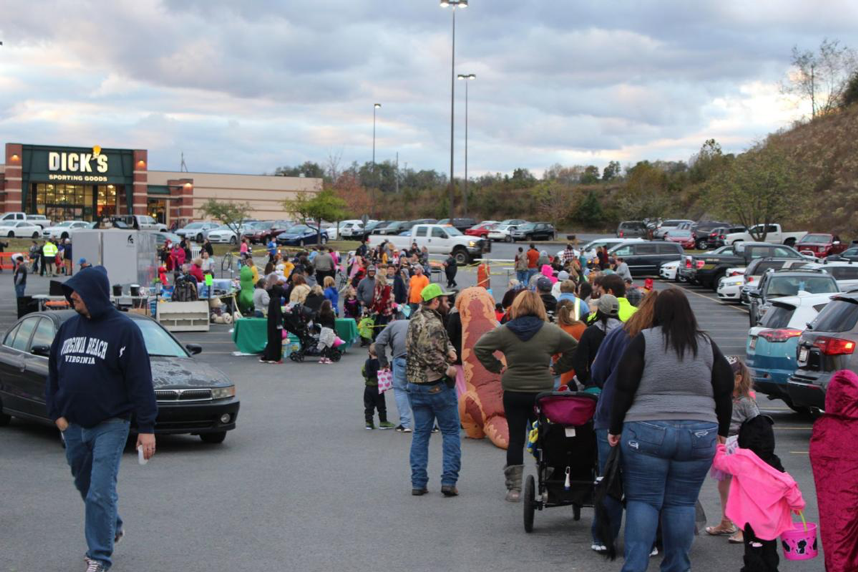 Lines of costumed children and their families wrap around Meadowbrook Mall during the annual Trunk-or-Treat with Law Enforcement on Thursday evening. | Staff photo by Steven Baublitz
BRIDGEPORT — Swarms of children donned their Halloween costumes and gathered sweets in the Meadowbrook Mall parking lot Thursday evening during the annual Trunk-or-Treat with Law Enforcement.
Standing beside police cruisers decorated for the occasion, law enforcement officers from the Harrison County Sheriff's Department, Clarksburg Police Department, Bridgeport Police Department the FBI Police and others passed out candy.
Several information booths were set up as well, and characters from "Paw Patrol" were on hand to greet the trunk-or-treaters.
Harrison County Sheriff Robert Matheny said his wife, Melissa Matheny, and Ashley Vernon continue to be key organizers of the event.
"The last couple years, we've drawn between 3,500 and 3,600 kids that participate. It provides a family-friendly, safe atmosphere. We try to give proper lighting; kids don't have to worry about traffic, and we encourage safety," the sheriff said.
The candy, he added, is mostly bought and donated by the Fraternal Order of Police Lodge No. 78, with Spirit Halloween and others helping as well. All the candy handed out was in sealed packages to prevent tampering and ensure the safety of the children.
"We take those precautions seriously," he said.
Melissa Matheny said Thursday's turnout seemed consistent with past years.
"(People) are wrapped up around Planet Fitness over there, and in years past, the line has gone down towards Target," she said.
"I think it's great," Vernon added. "This is what we did it for. We worked hard over the past month or so to get donations, and I think it's a good turnout."
Both said the goal of the event is to provide children with a fun, safe experience and positive interaction with law enforcement.
Clarksburg Police Sgt. Paul Graeber, who participated in the event for the first time Thursday, said he and his girlfriend, Ali Lopez, decorated the trunk of his cruiser for the trunk-or-treat.
"I'm loving it. It's a lot of fun seeing all the kids," Graeber said.
Chuck Lanham of Clarksburg, who brought his family to the trunk-or-treat for the first time Thursday, said he was presently surprised by the turnout.
"It's packed. I think it's good (that) kids don't have to be afraid and they know (law enforcement) is their friend, and it's a good thing," he said.
Carrie Yocco of Bridgeport brought her family to enjoy a night of safe Halloween fun.
"I think it's great for the community, and the kids have a good time," she said.
The trunk-or-treat gives youth the opportunity to meet law enforcement in a positive way, instead of during an emergency or potentially negative situations, Yocco added.
Staff writer Steven Baublitz can be reached at (304)626-1404 or sbaublitz@theet.com