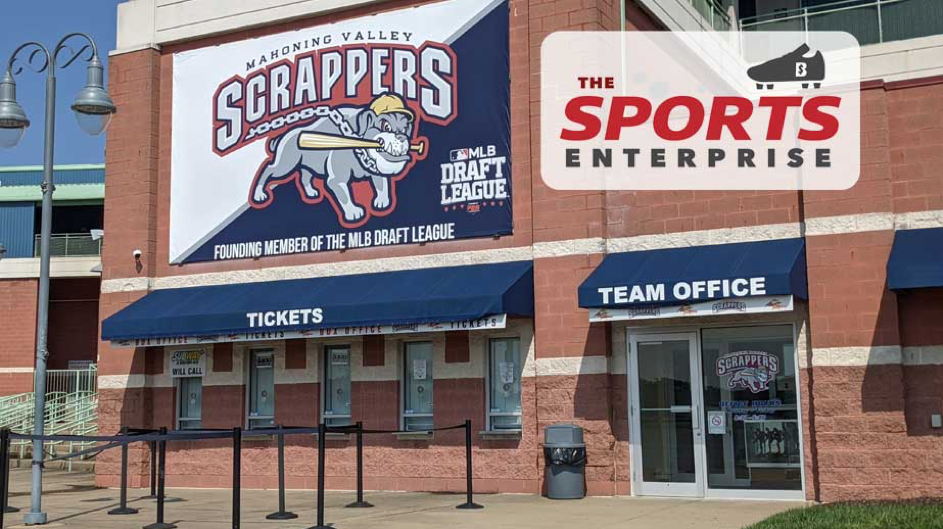 Monday, February 7, 2022 John Vargo | The Business Journal
YOUNGSTOWN, Ohio — With revenues down about 98% during the canceled 2020 season because of the COVID-19 pandemic, the Mahoning Valley Scrappers began their financial comeback in 2021 and are looking forward to an even stronger 2022 season.
Attendance hovered around 2,400 spectators with a few games near Eastwood Field's 6,000 capacity last year, although profits were 60% compared to a normal season, says Jordan Taylor, general manager.
This year, he's hoping to hit it out of the park and nudge revenues closer to the 100% target.
"It was really step one in building things back for us," says Taylor, who is also vice president of HWS Baseball, part of Massachusetts-based HWS Group, a sports management firm that owns and operates professional sports franchises.
"We're very hopeful that this season, having a more traditional offseason for us to plan and put our programs together it'll look very similar to a pre-pandemic Scrappers season," he says.
The Cafaro Co. holds the lease on Eastwood Field, holding an agreement through 2033, and its spokesman Joe Bell says the pandemic and subsequent shutdowns left its tenants financially reeling.
"We know it is in everyone's best interest to try to find a way to get back to what a normal financial picture should be," he says. "Now, it's just a matter moving forward."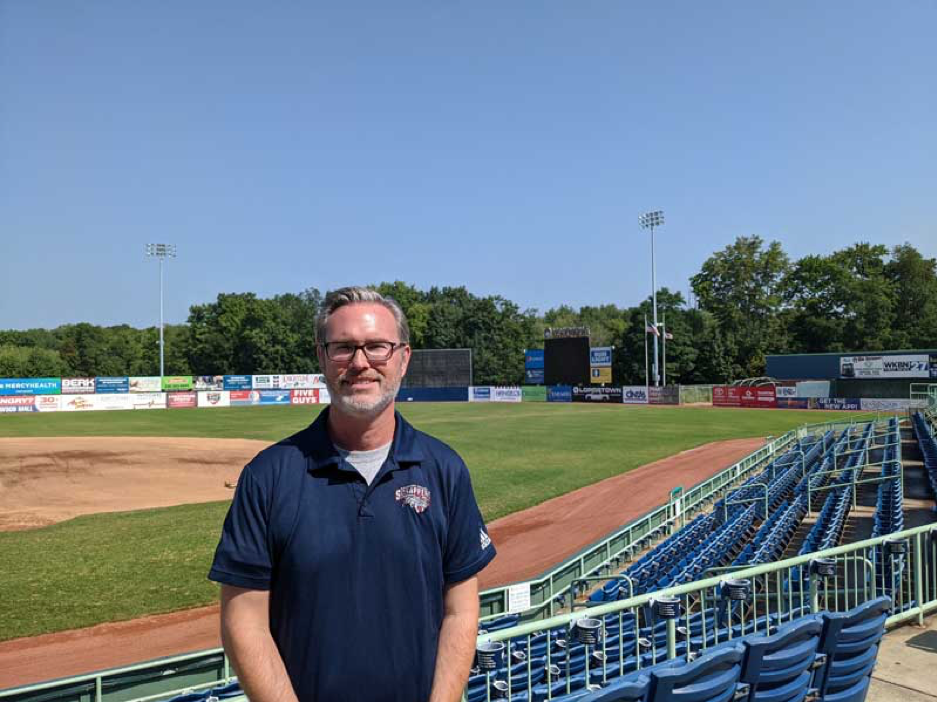 Mahoning Valley Scrappers General Manager Jordan Taylor says he's hoping the team's revenue reaches pre-pandemic levels in the 2022 season.
Dollar nights for drinks and hotdogs usually draw large crowds for Thursday home games, which starts the second season of the six-team Major League Baseball Draft League on June 2. Taylor says it might be one of his bigger crowds that evening, but not as big of a money maker.
"The overall revenue, even if you have more people, isn't quite as high as a Friday or Saturday, but they can still get up there," he says.
Most of the team's expenses are food, the 200 seasonal and full-time workers, followed by the team's merchandise and promotional costs, Taylor adds.
Concession options are expanded this season as fans can either order electronically or in person.
About 70% of the ballpark was open last year, but all of Eastwood Field's amenities will be available to fans in 2022.
"It's going to give us a chance to really open things up and give fans a great, overall experience," Taylor says.
It'll be better than the 2021 season where the first five home games were 30% capacity due to COVID restrictions and some games were canceled due to contact tracing – impacting game day revenues.
"I would say it knocked us 20-25% on what a normal day would be," Taylor says.
Happenings at Eastwood
Last season, the stadium was full from mid-March to the end of October with more than the scheduled 34 home Scrappers games in 2021.
Each year the team wants to schedule about 100 events, everything from Youngstown State University and high school baseball games, community-based events, professional wrestling and live events like Jeff Dunham, which Taylor says was one of the biggest draws in Eastwood Field history.
The non-Scrappers events account for 15 to 20% of the team's revenue and the team is well on its way to hitting the century mark in events. He adds the Scrappers are working with Indigo Road Entertainment for one to two more events in 2022.
"It's been a busy offseason for us," Taylor says. "Those dates are really filling up. It's a good thing to see that this stadium is going to be utilized really well again this year."
With the COVID restrictions in 2021, fan interaction and on-field promotions were limited – something the Scrappers hope will be nonexistent in 2022.
There are five buck nights, eight fireworks displays, bobblehead and other giveaways including five to six specialty jersey nights tied in with community themes and some celebrity appearances, which will be announced in the near future, Taylor says.
"It looks to be a pretty packed promotional schedule," he says.
Second Season for Scrappers
Mahoning Valley, along with Williamsport (Pa.) Crosscutters, West Virginia Black Bears, Trenton (N.J.) Thunder, State College (Pa.) Spikes and Frederick (Md.) Keys returned in the second year of the MLB Draft League, where the season expanded from 68 to 80 games – giving the Scrappers 40 home games.
Last year's manager Coco Crisp took a job with the Washington Nationals in the offseason, leading to a new staff for the Scrappers, which will be named in the next couple of weeks. MLB and Pro Baseball Report, who control the league, will announce all the teams' staff at one time, Taylor says.
As of late January, there were 277 players under contract for the six teams.
"We're way ahead of pace where we were last year," Taylor says. "From what I've seen, the quality is going to be fantastic in the Draft League this year.
"We were, given the quick turnaround, how well the league performed."
MLB Draft League players who went to a northeastern Ohio or western Pennsylvania college, or might be from the Mahoning Valley, likely will be on the Scrappers roster.
Last season was a pitcher-dominated league with many changes, leading to four-hour games early in the season. Taylor says in the second half of the season, after the MLB Draft in July, fans will view traditional games with pitchers going four to six innings.
He says pitchers in the draft league prior are on very restrictive pitch counts, which indicates why there are so many changes.
"Overall, we had some longer games due to the number of pitchers that are better utilized," Taylor says. "I know they were looking at some changes, maybe reducing the amount of time between innings to have to go a little bit quicker."
Despite that, Bell says he's heard nothing but people pleased they can enjoy refreshments and a day at Eastwood Field.
"We just hope they keep doing what they're doing," he says "We're glad to have them on the property. We're glad to see them playing ball."
Copyright 2022 The Business Journal, Youngstown, Ohio.