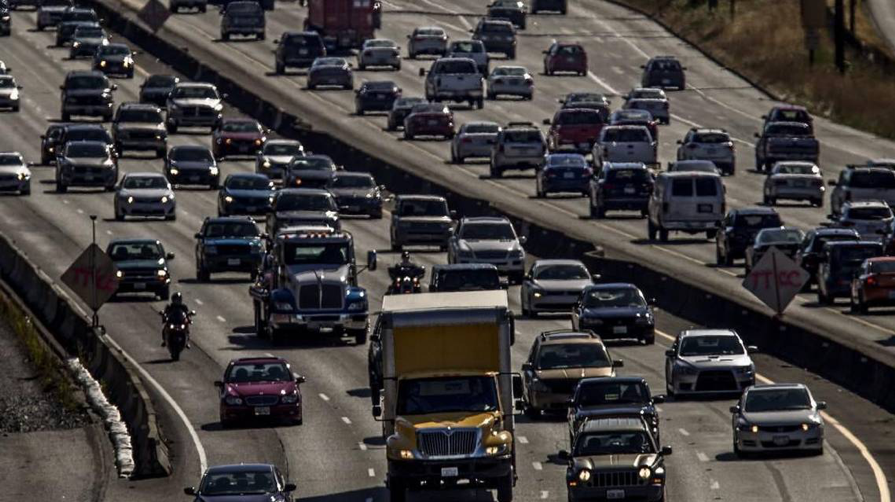 Congestion on Interstate 5 through Tacoma has grown noticeably heavier, lengthening commute times as the population grows. | David Montesino dmontesino@thenewstribune.com
By Kate Martin And Debbie Cockrell
March 22, 2018 08:00 AM
Updated March 22, 2018 03:21 PM
Last year, enough people arrived in Pierce, King and Snohomish counties to fill Cheney Stadium nearly 10 times over.
From April 2016 through April 2017, the population of the Seattle-Tacoma-Bellevue area grew by more than 64,000 people, according to data released Thursday by the U.S. Census Bureau.
The three-county area was the sixth-fastest growing metro area in the country, topped only by Dallas, Houston, Atlanta, Phoenix and Washington, D.C., areas, the Census Bureau says.
The population numbers account for births and deaths, with the primary driver for growth being people who came here from other places.
King County accounted for more than half of the increase, with nearly 33,000 more people living there than the previous year. The county saw the sixth-highest growth nationally in the number of people who moved there.
Pierce County's growth was 26th nationally, with a little over 17,000 more people here in 2017 than the prior year. That's more than 46 people moving to Pierce County or being born here each day.
Last year also saw job growth throughout the region.
According to figures from the Puget Sound Regional Council, Seattle experienced 3 percent job growth in 2017. Pierce County was at 2 percent.
Since 2010, the region has added nearly 370,000 jobs.
All of this puts more pressure on transportation systems and is driving up housing costs throughout the region.
Rents in the area remain among the fastest-growing nationwide, according to real estate data website Zillow. Median rent in Seattle is $2,200 a month, a nearly 5 percent increase from the previous year.
The pace of rent increases in Tacoma is stunning compared to national figures, where median rents increased nearly 3 percent to $1,445 per month nationwide.
Tacoma's rents rose by 9 percent in a year, with typical rents hitting $1,600 a month.
If you're looking for affordable housing, there's more bad news: Zillow says a third fewer homes are on the market in Tacoma now than last year, when inventories hit a record low.
Median home values in Tacoma rose 14 percent in a year, to a median of $279,600, according to Zillow. (The company's algorithm values all homes, not just those that sell.)
It's already difficult to find a place to rent in some parts of Tacoma. Now Zillow says renters are staying in place longer for a variety of reasons: Those who want to buy can't find a home, or if they want to move, it's hard to find another apartment or rental home.
"Searching for the 'right' home has become a drawn-out affair, and rising prices require more savings for a down payment," Zillow senior economist Aaron Terrazas said in a news release.
"Were it not for strong new apartment construction over the past half-decade, rental appreciation would be even stronger than it is now."
Still, builders are not keeping pace with people moving here.
Construction firms have said they can't hire skilled laborers fast enough, and the state predicts hundreds more construction jobs will be needed in the coming years to fill the demand.
As such, people have been venturing to areas farther from urban job centers, adding to rapid growth in smaller Western Washington communities.
The new census data noted that Shelton and Centralia were among the largest-gaining metropolitan areas in the United States — defined as urban areas with core populations of at least
10,000 but fewer than 50,000.
The two towns were ranked No. 9 and 10, respectively, on the latest Census Bureau list. Shelton's population grew by 1,587 to 63,710; Centralia grew by 1,570 to 78,200.
The latest data track with trends seen last year of more people looking beyond Seattle to areas such as Mason County.
Kristy Buck, managing broker with John L. Scott's Shelton office, told The News Tribune in September that its waterfront was "drawing people from Seattle, Tacoma and California."
Kate Martin: 253-597-8542, @KateReports
Debbie Cockrell: 253-597-8364, @Debbie_Cockrell