Dec 08, 2021 6:00 PM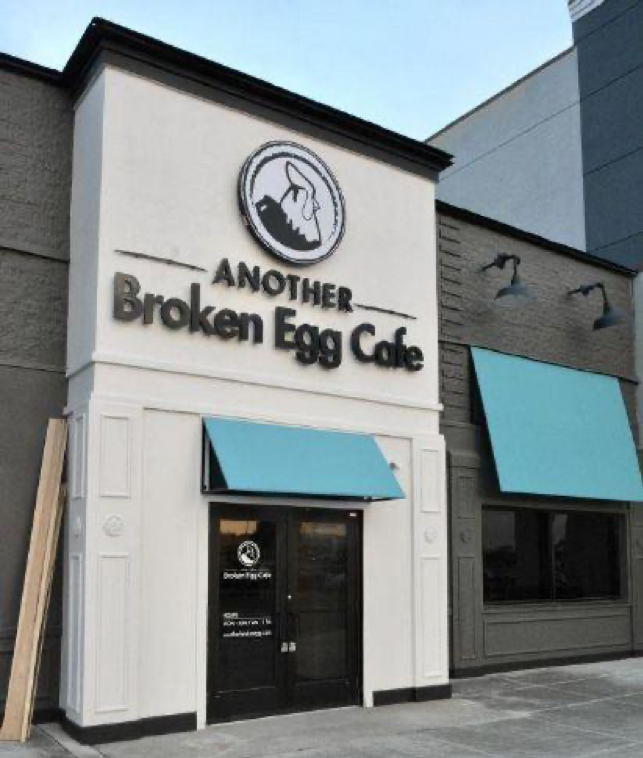 Crews recently installed signage for the new Another Broken Egg Cafe restaurant in Sandusky Mall | Register photo/ANDY OURIEL
PERKINS TWP. — Brace for Another Broken Egg Cafe, the Sandusky Mall's newest restaurant, to hatch sometime this month.
"It is opening on Dec. 20, however, I am hearing that it may actually open next week," mall spokesman Joe Bell said.
Crews recently installed signage above the storefront's outdoor entrance beside Sandusky Mall's main entryway. It's going inside the former Ruby Tuesday's location.
Documents show the overall investment totaling about $500,000.
On its website, Another Broken Egg Cafe — which boasts about 80 locations across the country — provided a description of itself:
"Another Broken Egg Cafe isn't your typical breakfast, brunch and lunch place. Our menu is second-to-none, loaded with fresh ingredients and creative recipes across a wide variety of breakfast classics, memorable brunch dishes and lunchtime favorites. Each location is designed to feel like a casual getaway, served up with a generous side of family, friends and friendly service."
On a related note, the mall also announced another business with a nationwide presence — Ross Dress for Less — intends to open its first brick-and-mortar storefront in Sandusky. It should be located between T.J. Maxx and Five Below.
"Our people and theirs have been exchanging construction drawings," Bell said about ongoing talks with Ross executives. "We will likely do some preliminary work on the space and deliver it to Ross in May. Barring any unforeseen delays, the store would presumably open in late July."
Ross describes itself as a business "bringing our customers a constant stream of high-quality department and specialty store brands at extraordinary savings while providing an easy, fun and organized shopping experience," its website read.
"All of these stores are part of redeveloped space that used to house a Macy's department store," Bell said.