BOB COUPLAND, Reporter | bcoupland@tribtoday.com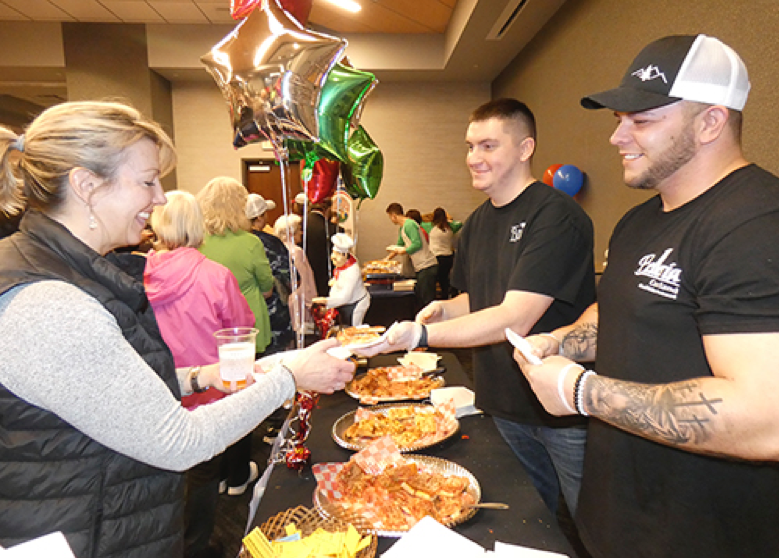 Staff photo / Bob Coupland Jennifer Holliday-Buchanan of Howland, left, gets pizza from Max Murphy and Joshua McBride of Belleria's Pizza of Cortland on Sunday at the Slice of the Valley at the Eastwood Event Centre in Niles. The event was hosted by the Warren Rotary Club and is its biggest fundraiser. The public sampled pizza from 12 businesses and beer from six others.
NILES — Not only did celebrity judges put their taste buds to work, but also did the public as they sampled a variety of pizzas for Sunday's annual Slice of the Valley fundraiser hosted by the Warren Rotary Club.
Twelve pizza places provided food and six places provided beer for the three-hour event at the Eastwood Event Centre.
The family event usually draws more than 1,500 people, according to Rotary member Christine Cope. She said this year, approximately 1,600 people attended.
Ken LaPolla of the Warren Rotary said the Slice of the Valley started in 2015 and is the Rotary's major fundraiser.
He said the Rotary raises an average of $35,000 to $40,000 annually and funds have been given to Animal Welfare League, Warren Family Mission, St. Vincent de Paul and Cadence Care Network.
The event last was held in 2020 just before the coronavirus pandemic lockdown.
Rotary member Rob Berk is able to get celebrity judges, which this year included actor Jerry Mathers of "Leave it to Beaver" and boxer Ray "Boom Boom" Mancini, as well as Tribune Chronicle entertainment editor Andy Gray.
"I think the different pizzas and the celebrity judges is why people come to this," LaPolla said.
In addition to the 13 celebrity judges, the public also could vote for its favorite pizza.
Among the visitors was Stephan Wilder, mayor of North Canton and Rotary district governor, who said he was overwhelmed at the crowd.
"This is a hallmark event for the Warren Rotary Club with an outpouring of support from the community. Not too many Rotaries do events of this magnitude. You can see how much fun everyone is having," he said.
Rotary member Andy Bednar said volunteers from the Animal Welfare League, Boy Scout Troop 101, Warren Harding Interact Club and other groups help make the event a success.
Max Murphy with Belleria Pizza in Cortland said the public could sample a variety of pizza from white, old fashioned to chicken and greens.
"Pizza is always a popular food. There is so many varieties that there is something everyone will like," Murphy said.
Jennifer Holliday-Buchanan of Howland said she liked Belleria's Old World Pizza.
"I have always liked pizza and the different toppings," she said.
Katie DeToro of Pizza Joe's in Girard said the gyro and veggie pizzas are well liked.
"We always try out new pizzas with the public with this year Nashville Hot. This event gives us the opportunity to let the public try the different pizzas. While many like the pepperoni pizza, they also get to try the gyro pizza," DeToro said.
Joanie Ianazone of Ianazone's Pizza in McDonald said the baked potato and bacon chicken ranch pizzas were popular.
Stany Boney, WKBN-27 news anchor, said the 13 judges each had to sample 24 slices of pizza.
"You really need to only take two bites per slice when you're judging. If it's really good, you can do three bites," Boney said, noting he has done 25 pizza-challenge events in his career.
A long line formed for autographs from Mathers.
Bill Brooks of Austintown had Mathers autograph two baseballs.
"I was a fan of the show when it was on TV," he said.