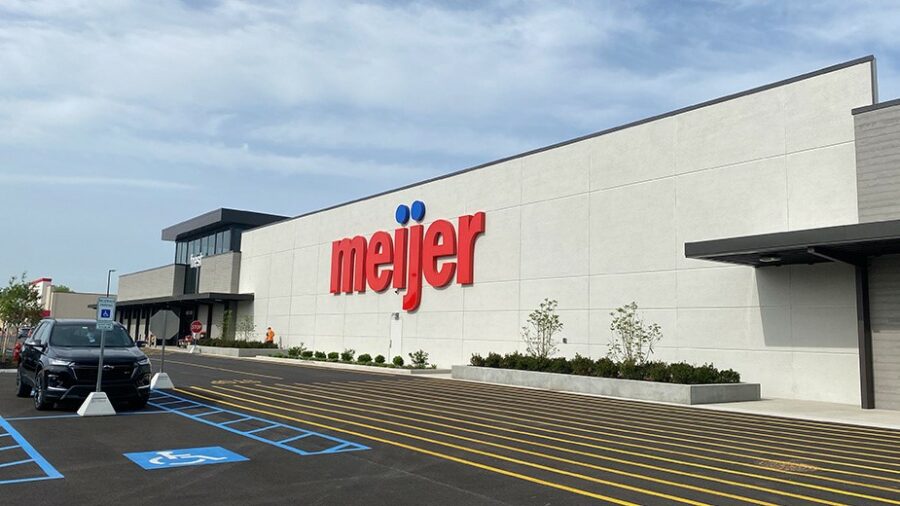 Tuesday, May 16, 2023 Shianna Gibbons     THE BUSINESS JOURNAL
New Meijer Store Opens at Eastwood Mall Complex
HOWLAND TOWNSHIP, Ohio – After nine years of back-and-forth negotiations, Meijer finally opened its doors in the Howland Commons Plaza section of the Eastwood Mall Complex.
The grand opening comes two years after the Boardman location opened. The 159,000-square-foot supercenter comes packed with an extensive grocery selection, clothing apparel, necessities, a pharmacy, a garden center and a Meijer Express Gas Station.
Doors opened for customers at 6 a.m. Tuesday, followed later by an official ribbon-cutting ceremony.
According to Patrick Hughes, the store director, this new Meijer is providing 350 jobs, with a mix of part-time and full-time positions.
Hughes said the community and his team members have been eagerly waiting for the grand opening.
"The community has been waiting for us to open. So for everyone to come and just see what the hype was about, it's just been so exciting and special," Hughes said. "We are about convenience and making an impact on everyone's lives every day."
Meijer officials and workers cut the ribbon on the retailer's new location in the Howland Commons Plaza.
Hughes said Meijer's originality and values drive the community's excitement for more Meijer locations.
"We treat everyone with dignity and respect. We are out there to give the best experience that people can get when they come in," Hughes said. "It doesn't matter if you're a customer or an employee, we treat everyone with that same respect – it's very important to the Meijer family."
Nicholas Morgione, vice president of development and strategy for Cafaro Co., said Meijer's history was a big motivator to get the supercenter to the Eastwood Mall Complex.
"They are a family-owned business, and that always works really well with us. Boscov's is family-owned, and that worked really well. [Meijer is] also the originals – Walmart, Super Kmart and all the others copied them," Morgione said.
Joe Bell, director of corporate communications for Cafaro Co., said the opening has been a long time coming.
"We originally started talks about nine years ago, and at some point we had a contract, and then it was terminated, and we restarted negotiations," Bell said. "Then it was back-and-forth with the building and construction, but it really looks great, and we're happy to finally have the doors open."
Meijer on Tuesday opened its new location at the Eastwood Mall Complex.
Along with the grand opening, Meijer has also given back to the community, according to Hughes.
"Meijer really focuses on enriching the communities that we serve in. To kick it off, we were able to donate $25,000 to local charities," Hughes said. "Fifteen thousand of that went to Inspiring Minds, which is an organization located in Warren."
Copyright 2023 The Business Journal, Youngstown, Ohio.