In the fall of 1988, the Puyallup area was treated to a new hub for shopping when South Hill Mall opened its doors. No longer was it necessary to make the trek to Tacoma to find department store favorites of the time, like Mervyn's, Lamonts and Target, along with numerous smaller retailers and popular restaurants. Just a few years later, the second phase of the mall opened. In 2009 the entire mall underwent a multimillion-dollar renovation.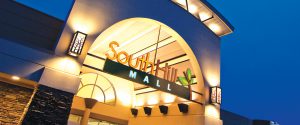 Today some of the names have changed, but South Hill Mall remains a community gathering place with more than 100 retail stores, restaurants, entertainment venues and other services. "South Hill Mall is a neighborhood shopping center and we want to make sure we're serving the community well," said Joe Bell, director of communications for Cafaro, the mall's management company.
That philosophy guides which new businesses and services are brought in as tenants. An example, said Bell, is the mall's newest restaurant, Golden Corral, slated to open in late summer. "We knew that there was demand for a buffet-style restaurant," he said. "What we've seen on social media is unbelievable anticipation and excitement." Serving the community also guides the mall's special events, such as fashion shows, celebrity meet-and-greets, and educational programs for families.
Community members can even get their regular exercise at the mall before stores open, which is convenient when the weather is unpredictable. Last summer, Puyal-LOOP, an indoor fitness trail, was launched. By following green leaves marked on the floor, walkers can complete quarter-mile laps around the mall. They can also stop at 10 strength-training exercise stations along the way.
The evolution of South Hill Mall and commemoration of its 30th anniversary will be celebrated in October with two "Cheers to 30 Years" events. These will likely include store promotions, musical performances and highlights of community partnerships over the years. Visit southhillmall.com for more information.