Monarch tractor leaves cocoon
Foxconn, ag firm to build vehicle in Lordstown
AUG 19, 2022
RON SELAK JR.
Reporter
rselak@tribtoday.com
Staff photo / Allie Vugrincic Local elected officials, business leaders and Foxconn Lordstown employees were invited to check out the Monarch Tractor during its local debut Thursday morning at Foxconn Lordstown.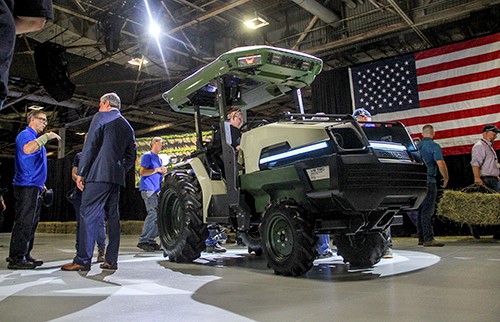 It's the vision that's fueling the execution of the partnership between Monarch Tractor and Foxconn to mass produce the Livermore, Calif.-based company's MK-V Series tractor, a battery-powered autonomous piece of farm equipment that has the potential to revolutionize the farming industry, Monarch's top executive said.
And it was part of his message Thursday when the companies publicly debuted the smart tractor at Foxconn's plant in Lordstown. Earlier this month, it was announced Foxconn, the Taiwanese electronics giant, will be the contract manufacturer for the tractor.
"(It's) a combination of innovation and technology and a combination of quality and precision manufacturing, something that is going to end up on every farm around the world," Praveen Penmesta, co-founder and CEO of Monarch Tractor, said.
WHY FOXCONN? WHY LORDSTOWN?
It boiled down to automotive pedigree on the Foxconn team, electrification and Foxconn's experience in electronics, said Mark Schwager, Monarch Tractor's co-founder and president.
"So combining automotive, electrification and electronics was a really big thing for us," Schwager said. "We really only found that here — a tremendously talented team across the board."
Full-rate production of the MK-V Series tractor is scheduled to begin in the first quarter of 2023 at the approximately 6.2 million-square-foot plant, the former General Motors assembly plant that Foxconn acquired in May from Lordstown Motors Corp.
It will follow production of Monarch's Founder Series in the fourth quarter of 2022 at Monarch Tractor's Livermore, Calif., manufacturing facility.
Penmesta said production volumes would be released in the first quarter of 2023, but the number is expected to reach the tens of thousands.
"We are excited about demand. This is a big market in the U.S.," said Penmesta, who earned a master's degree in mechanical engineering from the University of Cincinnati. "If you look at how many tractors are sold, especially in this class of tractors, we are talking about 150,000-plus units are sold.
"Suffice to say, the reason we are building a small tractor is because we are targeting high volumes," he said. "This is not a big combine or a big tractor that sells in the hundreds or thousands. We are targeting tens of thousands going forward."
The price point is in the $60,000 to $70,000 range before subsidies. The tractor, Penmesta said, qualifies for a tax credit in the new climate, tax and health care law President Joe Biden signed Tuesday.
It has battery capacity to provide eight to 10 hours of operation for most medium-duty applications, said Schwager, and can charge in about five hours.
"If you can run for eight to 10 (hours) and charge in five (hours), you can really work around the clock for those harvest times, those challenging times when a farmer really has to floor it and get the job done," Schwager said.
The battery is not part of the vehicle but can be removed and swapped for a fresh battery. That process, Schwager said, can be done by one person in about seven minutes.
TRACTORS, CARS, TRUCKS
Foxconn also has contract manufacturing agreements with Lordstown Motors to produce its flagship electric vehicle, the Endurance truck, and with Southern California's Fisker Inc. for its PEAR, or Personal Electric Automotive Revolution.
Production of the PEAR, which earlier this month Fisker reported had more than 4,000 reservations, is scheduled to launch in 2024. The plan is to build at least 250,000 PEAR vehicles per year once the plant ramps to production.
Lordstown Motors announced, also earlier this month, it is limiting its first batch of Endurances to 500 with much of that production occurring in the first quarter of 2023.
For Monarch, said Rick Rajaie, vice president of operations for Foxconn North America, "I can tell you we are well on plan and on target to fulfill the capacity target that … Monarch has beyond 2024."
He could not say exactly how many square feet of the massive plant are in use now, but Monarch has its own dedicated space broken into two production spaces — one for the main tractor and one for the roof, the autonomous system that contains sensitive intellectual property.
He confirmed Foxconn is in talks with other original equipment manufacturers, but stopped short of saying how far along the company is in securing new products.
"We are blessed. Ever since we came to the community, we have been approached by a lot of partners in the industry," Rajaie said. "I cannot share any confidential details with you, but I can assure you that we are in discussions with a variety of partners …"