Shoppers hooked on Bass Pro Shops
New store reels in lovers of the great outdoors
NOV 16, 2023
MASON COLE
Reporter
mcole@tribtoday.com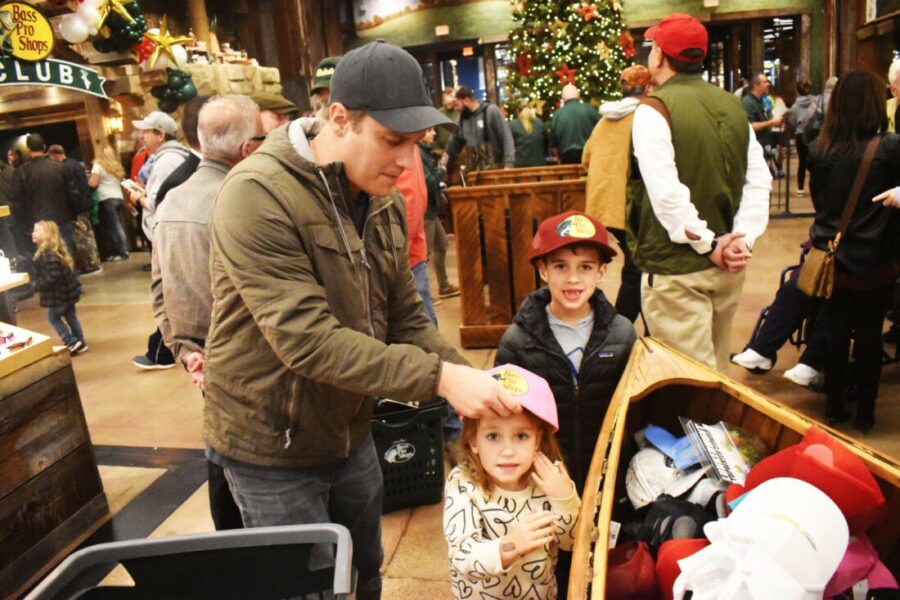 Staff photo / R. Michael Semple Jim Gintner of Howland, along with Vivi, 4, and Brennan, 6, try on some Bass Pro Shops hats Wednesday during the grand opening of the new store in Niles.
NILES — Bass Pro Shops officially opened its doors at the Eastwood Mall Complex after a ribbon-cutting ceremony attended by hundreds of customers Wednesday.
The grand opening gave lovers of the outdoors a chance to take advantage of deals on merchandise, with early Black Friday bargains and giveaways.
The ceremony, titled the "Evening for Conservation," culminated with a percentage of proceeds on sales going toward local conservation efforts.
"This evening for conservation is a big deal," Jimmy Houston, hall of fame angler and television host, said. "It's a tremendous thing because the money raised here tonight will stay right here in this area."
While initial plans were for 10% of every dollar spent during the evening to go toward local conservation efforts, Houston announced that Bass Pro officials were raising the donation to 20%.
Johnny Morris, founder and CEO of Bass Pro Shops, said he hoped the store would be embraced by residents of the Mahoning Valley.
"When you go into the shop, we hope you're very proud," Morris said.
"I walked in here a couple of weeks ago, I'm so proud. I just want to say thank you to every craftsman and woman, every artist, every talented person who worked on this. They worked hard to make this store your store, and it's very unique to this region."
According to a news release, Bass Pro Shops has a history of conservation support throughout Ohio, including work with the Ohio Department of Natural Resources, Division of Wildlife.
The release said that in the past three years alone the company has granted over $100,000 to local organizations and conservation projects through the Bass Pro Shops and Cabela's Outdoor Fund.
The Niles location is the seventh in Ohio, and the only location within 150 miles of the Mahoning Valley.
Bruce Miller, general manager of the Niles location, said he is thrilled to see Bass Pro's entry into Trumbull County.
Miller said the store will provide outdoorsmen with all of the products and equipment that they might need.
"This is a once in a lifetime opportunity for me," he said. "I was born and raised in Youngstown, Ohio, and to bring this legendary brand back here and just to represent Johnny Morris and everything that he has built with this brand is absolutely incredible. We've got hunting, fishing, camping, clothing, anything that you can imagine to get you to the outdoors and enjoying the natural resources that we have in this area."
The 93,000-square-foot store features a 5,000-gallon trough aquarium with 70 native fish. The store is filled with antique artifacts displayed along the walls, next to hand-painted murals celebrating Ohio farmlands and local hunting and fishing scenery, according to the news release. There also are several North American big game mounts and taxidermized wildlife dioramas lining the walls.
Anthony Cafaro Jr., co-president of the Cafaro Company, said the store will draw shoppers from across the state to the Eastwood complex.
"We're thrilled to have Bass Pro Shops here at the Eastwood Mall complex," he said. "This is the jewel of the Mahoning Valley, just having a destination retailer that is not just going to pull people from the local community, but from the region, it's just outstanding."
Product giveaways will be available over the five-day grand opening event. The store will be open for regular business hours the rest of the week.