by Jonathan Weaver STAFF WRITER | Nov 28, 2020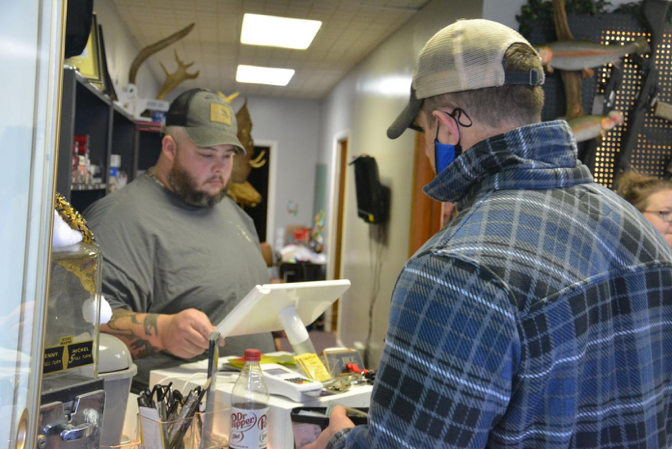 Former local resident Aaron Williams makes a Small Business Saturday purchase from Sam Marks, co-owner of High Caliber Customs in Clarksburg.
Ringing out customer, Staff photo by Jonathan Weaver
CLARKSBURG, W.Va. (WV News) — The holiday shopping season is in full swing, COVID-19 or not, and locally owned stores made sure to highlight their wares on Small Business Saturday.
Leah Michael, owner of Sudsberry, a Clarksburg-based skin care boutique, said the state's changing COVID-19 guidelines forced her to re-evaluate her business plan. But she said customers have been receptive to curbside pickup options, limited hours and a new Meadowbrook Mall kiosk.
"My customers have been loyal and so thoughtful with words of encouragement and support during these uncertain times, and it's heartwarming to have their support. Our community's support is how my small business is surviving," Michael said.
Sudsberry sales associate Macie Clutter, a former customer, manned the mall kiosk Saturday afternoon, serving about a dozen customers in her first hour.
Bruceton Mills' Candace Burleyson shopped at the kiosk for the first time Saturday, with daughters Harlynn and Braisley choosing character-themed bath soaps.
At Artworks in Bridgeport, owner Lotus MacDowell said the Small Business Saturday foot traffic was similar to that of 2019. She said the last three months of the year are the busiest at the store.
"We've always had a very loyal audience who shopped during Small Business Saturday. It sometimes is more convenient to buy something online, but you need to remember these little shops are what make your town have personality," MacDowell said. "Every time you shop locally, you not only help the person who has the business, but you are helping to keep the community vibrant.
"If there was ever a year where people need to support their local businesses, this is the year."
Bridgeport's Joy Larry purchased a birdhouse for her cousin at Artworks on Saturday.
"I want to support the local businesses. I've been shopping at Lotus' place for years, so I thought I'd come and see what unique items she had," Larry said.
Ginny Hamrick of Fairmont also chose to support local businesses as she shopped for her mother at Artworks.
"I know right now its a hard time for them," Hamrick said of locally owned retailers.
Sam and Lara Marks, owners of High Caliber Customs and Daffodil Decals in Clarksburg, were glad for the good weather and the steady flow of customers Saturday, the start of what they hope will be a busy holiday shopping season.
Lara Marks said most of Saturday's business was customers shopping for family members or men shopping for hunting ammunition.
"I've been trying to keep (hunting ammunition) in stock, but last week I got bought out," Sam Marks said. "But we got a big shipment in (Friday) to try and keep up. Ammo always sells."
Cathy Goings, owner of Wicked Sisters Clothing Boutique in Clarksburg, offered specials and refreshments to shoppers on Saturday.
"The excitement of shopping for the holidays is still there," Goings said. "A lot of people haven't been out, but because of Small Business Saturday, they made an effort to come out and support their local small businesses, and we're very grateful for that.
"It's been steady throughout most of the day. We're very pleased."
Goings also encouraged shoppers to support Looking Glass Consignment and Sudsberry, which have downtown Clarksburg locations.
In Bridgeport, crafters visited Hammer and Stain to pick up items, as well as purchase pre-printed Hammer @ Home kits or pre-made home decor.
About 20 people had pre-ordered items Friday, according to co-licensee Mary McCloy.
Hammer and Stain still holds a handful of craft workshops each week despite the pandemic, limiting guests to 10-11 at a time.
"We pour all the paints and sand the wood for them, as well as prepare the stencil, provide the sponges and gloves, stain and paint they need to make their project," McCloy said. "They can order these online if they don't feel comfortable coming into the workshop. We give step-by-step instructions with each order so that their projects come out successfully.
"We're only at half capacity (during in-person workshops), but I'm able to maintain. I'm very blessed to be able to do that."
Despite the uncertainty caused by the pandemic and changing COVID-19 guidelines, McCloy said the business has seen new clients this year, thanks to the in-person workshops and the Hammer @ Home kits.