Eagles feather their nest with accolades | JUL 2, 2021
NATHANAEL HAWTHORNE | Reporter
nhawthorne@tribtoday.com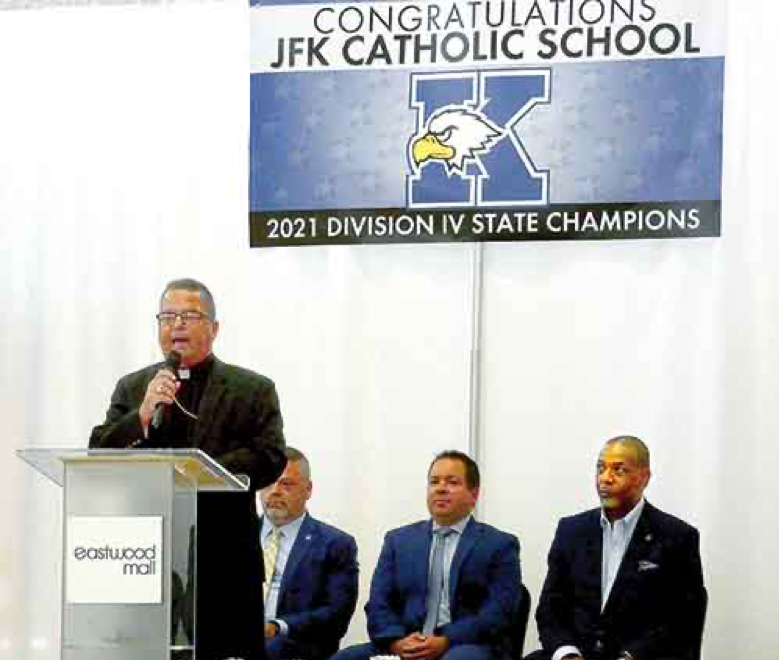 Bishop David Bonnar of the Diocese of Youngstown speaks at a ceremony honoring the 2021 Ohio state champion Warren John F. Kennedy Eagles baseball team in the main court of the Eastwood Mall Thursday morning. The team was honored by the mall and the Cafaro Company for beating Van Wert Lincolnview 4-0 last month. The Cafaro Foundation donated $10,000 to the school as well. Seated are Joseph Kenneally, JFK president; William A. Cafaro, Cafaro Company co-president; and Warren Mayor Doug Franklin.
NILES — The 2021 John F. Kennedy state championship baseball team was honored Thursday at the Eastwood Mall for its 4-0 victory in the title game over Van Wert Lincolnview.
Ten of the 11 athletes were on hand to be honored.
"It's been a great feeling. Everyone in the community has rallied behind us and they did the whole way to state," JFK junior and the Eagles' first baseman Aidan Rossi said. "It's a great feeling coming back and representing the city with a state championship."
Going into the season, the team had the bare-minimum 11 players allowed by the Ohio High School Athletic Association and the odds were stacked against it the whole season. Head coach Jim Ciambotti, in his rookie season at the helm, said a tough regular season schedule helped prepare the team for what was coming in the playoffs.
"We believed from Day One we could match up with anyone in our division and that goes back to our schedule. We tried to play harder teams in other divisions," Ciambotti said. "We saw a lot of great pitching and thought we were battle-tested going into the playoffs."
The weeks that followed the June 13 victory, Ciambotti said, have been "a whirlwind."
"Obviously we accomplished a great thing and the kids deserve it, and the school deserves the recognition," he said.
Rossi said the ceremony at the mall was surprising.
"Everyone is super excited about it and happy to be representing the community," Rossi said.
The Cafaro Company hosted the event and company spokesman Joe Bell said the point is to show community appreciation for accomplishing a tremendous feat.
"The whole purpose is to honor the athletes and let them know the community is proud of them," Bell said. "We love to honor student athletes whenever they win a state championship."
To honor the athletes, Bishop David Bonnar of the Diocese of Youngstown, Warren Mayor Doug Franklin and Cafaro Company co-President William A. Cafaro all took time to address the team.
"It's been six months that I've been in Youngstown as a bishop. I've had many firsts and this is a first I will never, ever forget. I can't wait to come back next year and do it again," Bonnar said. "I want to say to you, your coaches and everyone who supported you how proud I am of each and every one of you and how thrilled I am to be here today. You have made history."
Franklin recalled giving a similar speech after the JFK football team claimed a state title in 2016.
"I said it in 2016 in the gym celebrating the football championship — how 'bout them Eagles?" Franklin said to the more than 50 community residents in the crowd. "Congratulations to all of you guys. We are so very proud of you and we will be back here again. … This team was undermanned but never outworked. People counted you out but you reflected the spirit of our Valley — don't ever count us out, we will rise to the occasion every single time."
Before addressing the team, Cafaro presented the school with a $10,000 donation.
"We are so proud of your accomplishment and everything you stand for," Cafaro said. "We want to give back to the community and particularly with such an accomplishment like a state title. We did the same thing when they won in football in 2016 and we wanted to keep that tradition alive."
Bell explained the check can be used for anything the school may need.
"The Cafaro Company likes to make a donation to every school. The donation can be used for whatever they need, no strings attached," Bell said.
From an administration standpoint, high school Principal Alyse Consiglio, Athletic Director Al Gregos and JFK President Joe Kenneally said the state championship win is the perfect cap to the school year.
"If you knew any of these kids personally, they are two- or three-sport athletes, they're on National Honor Society, they do it all. At a small school like Kennedy, that's really what it's all about — it's the quality of the kids who are able to be well-rounded," Consiglio said. "Those kids are super special, and I know they have the tenacity to take on what an entire team can."
Gregos said the ceremony is rewarding and heartwarming.
"It was a very trying year and our kids never complained," he said. "They never wavered. They believed in themselves and it was a huge thing for them to win."
Kenneally said despite only having 11 kids on the team, they played bigger.
"These kids don't believe in being an underdog. They went out there and those 11 kids … played like they were 22 strong," Kenneally said. "These moments are once in a lifetime."
Rossi said, however, the work starts now for a repeat.
"The goal is to win another title," he said.
nhawthorne@tribtoday.com