RON SELAK JR.
Reporter
rselak@tribtoday.com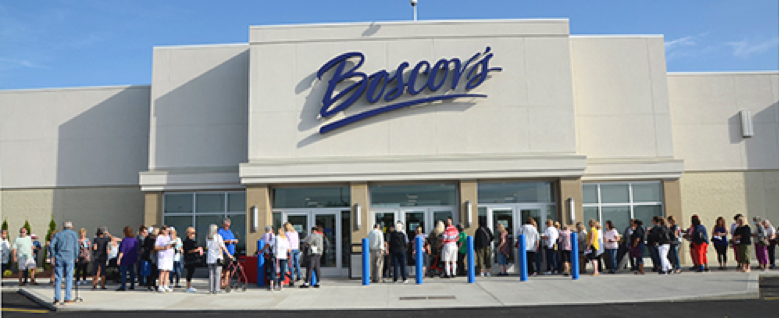 Staff file photo / R. Michael Semple Shoppers wait for the doors to open at the new Boscov's at the Eastwood Mall on Oct. 7.
NILES — The line to shop at the new Boscov's at the Eastwood Mall when the department store opened Oct. 7 started to form before the sun rose, and by the time the doors opened at 10 a.m., nearly 1,000 people were in it.
Thousands more came and went throughout that day — the first of a three-day grand-opening celebration put on by the Reading, Pa.-based retailer to christen its 49th store and third at a mall owned / operated by the Cafaro Company.
CEO Jim Boscov said the opening was the No. 1 event for him and for the company in 2021.
"I'm incredibly proud of the Niles co-workers that joined the Boscov family this year and grateful for the warm welcome we received from our new friends in the Mahoning Valley," he said.
The store — a gigantic 180,000-square-foot space that occupies about one-third of the mall's west concourse, including the 140,000-square-foot former Sears department store — features a wide range of departments from a candy counter to optical and hearing centers with extra value-added customer service features such as free gift wrapping for any item purchased.
That is what, in part, sets Boscov's apart from other retailers.
"We have departments that other department stores have given up on, candy, toys, petites …" Boscov said.
Other sources of pride include a broad range of products within each department that often are priced less than competitors — for example, the retailer carries upward of 20 different models of coffee maker — and customer service.
It was announced in January 2020 the Reading, Pa.-based retailer was locating at the mall with a planned opening in October 2020, but the pandemic delayed things about a year.
But when it did open in October, the response was immense. In addition, the opening raised more than $100,000 for local nonprofit groups. The grand opening also featured family-style entertainment, a parade and fireworks show.
It was perhaps the only department store to open in a new market in the U.S. last year but wasn't the only new store to open at the Eastwood Mall.
Among the new stores was the iconic Reyers Shoe Store, an institution in downtown Sharon, Pa., for decades that announced in May it was leaving for the mall.
The store opened in the 14,000-square-foot space formerly occupied by Forever 21 in the J.C. Penney concourse.
Co-owners, brothers Steven and Mark Jubelirer, decided to move after 135 years in Sharon because of dwindling customers. Their father bought the store in the early 1950s from Carl Reyer, whose father, a German immigrant cobbler, opened it in 1886.